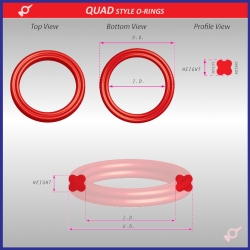 FKM Temperature Requirements
FKM (or Fluorocarbon) works for almost every application. It can withstand temperatures from -25-degrees F up to 400-degrees F.
FKM (Fluorocarbon) Recommended Applications
It has a good resistance to ozone, high temperatures, oxygen, mineral oil, synthetic hydraulic fluids, fuels, aromatics, and many organic solvents and chemicals.
Standard or Imperial sizes come in fractions of an inch.
| SKU | ID (Inner Diameter) | OD (Outer Diameter) | Cross Section | Material | |
| --- | --- | --- | --- | --- | --- |
| Q4005-FKM | 3/32 | 7/32 | 1/16 | FKM-75 | Quote |
| Q4006-FKM | 1/8 | 1/4 | 1/16 | FKM-75 | Quote |
| Q4007-FKM | 5/32 | 9/32 | 1/16 | FKM-75 | Quote |
| Q4008-FKM | 3/16 | 5/16 | 1/16 | FKM-75 | Quote |
| Q4010-FKM | 1/4 | 3/8 | 1/16 | FKM-75 | Quote |
| Q4011-FKM | 5/16 | 7/16 | 1/16 | FKM-75 | Quote |
| Q4012-FKM | 3/8 | 1/2 | 1/16 | FKM-75 | Quote |
| Q4013-FKM | 7/16 | 9/16 | 1/16 | FKM-75 | Quote |
| Q4015-FKM | 9/16 | 11/16 | 1/16 | FKM-75 | Quote |
| Q4016-FKM | 5/8 | 3/4 | 1/16 | FKM-75 | Quote |
| Q4018-FKM | 3/4 | 7/8 | 1/16 | FKM-75 | Quote |
| Q4019-FKM | 13/16 | 15/16 | 1/16 | FKM-75 | Quote |
| Q4029-FKM | 1 1/2 | 1 5/8 | 1/16 | FKM-75 | Quote |
| Q4104-FKM | 1/8 | 5/16 | 3/32 | FKM-75 | Quote |
| Q4106-FKM | 3/16 | 3/8 | 3/32 | FKM-75 | Quote |
| Q4107-FKM | 7/32 | 13/32 | 3/32 | FKM-75 | Quote |
| Q4108-FKM | 1/4 | 7/16 | 3/32 | FKM-75 | Quote |
| Q4109-FKM | 5/16 | 1/2 | 3/32 | FKM-75 | Quote |
| Q4110-FKM | 3/8 | 9/16 | 3/32 | FKM-75 | Quote |
| Q4111-FKM | 7/16 | 5/8 | 3/32 | FKM-75 | Quote |
| Q4112-FKM | 1/2 | 11/16 | 3/32 | FKM-75 | Quote |
| Q4113-FKM | 9/16 | 3/4 | 3/32 | FKM-75 | Quote |
| Q4114-FKM | 5/8 | 13/16 | 3/32 | FKM-75 | Quote |
| Q4116-FKM | 3/4 | 15/16 | 3/32 | FKM-75 | Quote |
| Q4117-FKM | 13/16 | 1 | 3/32 | FKM-75 | Quote |
| Q4120-FKM | 1 | 1 3/16 | 3/32 | FKM-75 | Quote |
| Q4122-FKM | 1 1/8 | 1 5/16 | 3/32 | FKM-75 | Quote |
| Q4129-FKM | 1 9/16 | 1 3/4 | 3/32 | FKM-75 | Quote |
| Q4133-FKM | 1 13/16 | 2 | 3/32 | FKM-75 | Quote |
| Q4149-FKM | 2 13/16 | 3 | 3/32 | FKM-75 | Quote |
| Q4150-FKM | 2 7/8 | 3 1/16 | 3/32 | FKM-75 | Quote |
| Q4169-FKM | 7 1/2 | 7 11/16 | 3/32 | FKM-75 | Quote |
| Q4172-FKM | 8 1/4 | 8 7/16 | 3/32 | FKM-75 | Quote |
| Q4173-FKM | 8 1/2 | 8 11/16 | 3/32 | FKM-75 | Quote |
| Q4202-FKM | 1/4 | 1/2 | 1/8 | FKM-75 | Quote |
| Q4207-FKM | 9/16 | 13/16 | 1/8 | FKM-75 | Quote |
| Q4208-FKM | 5/8 | 7/8 | 1/8 | FKM-75 | Quote |
| Q4210-FKM | 3/4 | 1 | 1/8 | FKM-75 | Quote |
| Q4211-FKM | 13/16 | 1 1/16 | 1/8 | FKM-75 | Quote |
| Q4212-FKM | 7/8 | 1 1/8 | 1/8 | FKM-75 | Quote |
| Q4213-FKM | 15/16 | 1 3/16 | 1/8 | FKM-75 | Quote |
| Q4214-FKM | 1 | 1 1/4 | 1/8 | FKM-75 | Quote |
| Q4217-FKM | 1 3/16 | 1 7/16 | 1/8 | FKM-75 | Quote |
| Q4218-FKM | 1 1/4 | 1 1/2 | 1/8 | FKM-75 | Quote |
| Q4222-FKM | 1 1/2 | 1 3/4 | 1/8 | FKM-75 | Quote |
| Q4223-FKM | 1 5/8 | 1 7/8 | 1/8 | FKM-75 | Quote |
| Q4224-FKM | 1 3/4 | 2 | 1/8 | FKM-75 | Quote |
| Q4225-FKM | 1 7/8 | 2 1/8 | 1/8 | FKM-75 | Quote |
| Q4226-FKM | 2 | 2 1/4 | 1/8 | FKM-75 | Quote |
| Q4230-FKM | 2 1/2 | 2 3/4 | 1/8 | FKM-75 | Quote |
| Q4231-FKM | 2 5/8 | 2 7/8 | 1/8 | FKM-75 | Quote |
| Q4233-FKM | 2 7/8 | 3 1/8 | 1/8 | FKM-75 | Quote |
| Q4234-FKM | 3 | 3 1/4 | 1/8 | FKM-75 | Quote |
| Q4236-FKM | 3 1/4 | 3 1/2 | 1/8 | FKM-75 | Quote |
| Q4237-FKM | 3 3/8 | 3 5/8 | 1/8 | FKM-75 | Quote |
| Q4238-FKM | 3 1/2 | 3 3/4 | 1/8 | FKM-75 | Quote |
| Q4239-FKM | 3 5/8 | 3 7/8 | 1/8 | FKM-75 | Quote |
| Q4241-FKM | 3 7/8 | 4 1/8 | 1/8 | FKM-75 | Quote |
| Q4242-FKM | 4 | 4 1/4 | 1/8 | FKM-75 | Quote |
| Q4243-FKM | 4 1/8 | 4 3/8 | 1/8 | FKM-75 | Quote |
| Q4244-FKM | 4 1/4 | 4 1/2 | 1/8 | FKM-75 | Quote |
| Q4246-FKM | 4 1/2 | 4 3/4 | 1/8 | FKM-75 | Quote |
| Q4252-FKM | 5 1/4 | 5 1/2 | 1/8 | FKM-75 | Quote |
| Q4253-FKM | 5 3/8 | 5 5/8 | 1/8 | FKM-75 | Quote |
| Q4256-FKM | 5 3/4 | 6 | 1/8 | FKM-75 | Quote |
| Q4259-FKM | 6 1/4 | 6 1/2 | 1/8 | FKM-75 | Quote |
| Q4260-FKM | 6 1/2 | 6 3/4 | 1/8 | FKM-75 | Quote |
| Q4261-FKM | 6 3/4 | 7 | 1/8 | FKM-75 | Quote |
| Q4263-FKM | 7 1/4 | 7 1/2 | 1/8 | FKM-75 | Quote |
| Q4267-FKM | 8 1/4 | 8 1/2 | 1/8 | FKM-75 | Quote |
| Q4269-FKM | 8 3/4 | 9 | 1/8 | FKM-75 | Quote |
| Q4310-FKM | 1/2 | 7/8 | 3/16 | FKM-75 | Quote |
| Q4312-FKM | 5/8 | 1 | 3/16 | FKM-75 | Quote |
| Q4326-FKM | 1 5/8 | 2 | 3/16 | FKM-75 | Quote |
| Q4328-FKM | 1 7/8 | 2 1/4 | 3/16 | FKM-75 | Quote |
| Q4331-FKM | 2 1/4 | 2 5/8 | 3/16 | FKM-75 | Quote |
| Q4332-FKM | 2 3/8 | 2 3/4 | 3/16 | FKM-75 | Quote |
| Q4334-FKM | 2 5/8 | 3 | 3/16 | FKM-75 | Quote |
| Q4335-FKM | 2 3/4 | 3 1/8 | 3/16 | FKM-75 | Quote |
| Q4336-FKM | 2 7/8 | 3 1/4 | 3/16 | FKM-75 | Quote |
| Q4337-FKM | 3 | 3 3/8 | 3/16 | FKM-75 | Quote |
| Q4339-FKM | 3 1/4 | 3 5/8 | 3/16 | FKM-75 | Quote |
| Q4341-FKM | 3 1/2 | 3 7/8 | 3/16 | FKM-75 | Quote |
| Q4342-FKM | 3 5/8 | 4 | 3/16 | FKM-75 | Quote |
| Q4343-FKM | 3 3/4 | 4 1/8 | 3/16 | FKM-75 | Quote |
| Q4344-FKM | 3 7/8 | 4 1/4 | 3/16 | FKM-75 | Quote |
| Q4345-FKM | 4 | 4 3/8 | 3/16 | FKM-75 | Quote |
| Q4347-FKM | 4 1/4 | 4 5/8 | 3/16 | FKM-75 | Quote |
| Q4349-FKM | 4 1/2 | 4 7/8 | 3/16 | FKM-75 | Quote |
| Q4359-FKM | 5 3/4 | 6 1/8 | 3/16 | FKM-75 | Quote |
| Q4382-FKM | 13 | 13 3/8 | 3/16 | FKM-75 | Quote |
| Q4415-FKM | 3 1/4 | 3 3/4 | 1/4 | FKM-75 | Quote |
| Q4426-FKM | 4 5/8 | 5 1/8 | 1/4 | FKM-75 | Quote |
| Q4430-FKM | 5 1/8 | 5 5/8 | 1/4 | FKM-75 | Quote |
| Q4436-FKM | 5 7/8 | 6 3/8 | 1/4 | FKM-75 | Quote |
| Q4439-FKM | 6 1/2 | 7 | 1/4 | FKM-75 | Quote |
| Q4450-FKM | 10 1/2 | 11 | 1/4 | FKM-75 | Quote |
| Q4454-FKM | 12 1/2 | 13 | 1/4 | FKM-75 | Quote |
| Q4464-FKM | 17 1/2 | 18 | 1/4 | FKM-75 | Quote |
| Q4318-FKM | 1 | 1 3/8 | 3/16 | FKM-75 | Quote |
| Q4216-FKM | 1 1/8 | 1 3/8 | 1/8 | FKM-75 | Quote |
| Q4333-FKM | 2 1/2 | 2 7/8 | 3/16 | FKM-75 | Quote |
| Q4278-FKM | 12 | 12 1/4 | 1/8 | FKM-75 | Quote |
| Q4248-FKM | 4 3/4 | 5 | 1/8 | FKM-75 | Quote |
| Q4227-FKM | 2 1/8 | 2 3/8 | 1/8 | FKM-75 | Quote |
| Q4429-FKM | 5 | 5 1/2 | 1/4 | FKM-75 | Quote |
Showing 20 of 106
Show All